Created June 2012. Includes live poll results.
Understanding your horse insurance policy
Getting to know your policy and what it means to you and your horse.
Once you have chosen your insurer and made your payment, the insurer will send out your documentation, which will include:
Certificate of insurance - showing your policy number, maximum benefits and excess values.Terms and Conditions - detailing exclusions and limitations of your policy.
You have a 14 day cooling-off period in which to decide if you want to go ahead with the policy. Read the terms and conditions carefully and think about how they apply to you and your horse. Do you know what you should and shouldn't do to ensure you are eligible for potential claims? Pay attention to the exclusions and limitations that tell you what you can and cannot claim for.
If you don't understand or adhere to your insurer's T&Cs it could result in:
The insurer cancelling your policyThe insurer refusing your claimThe insurer withdrawing from a current claim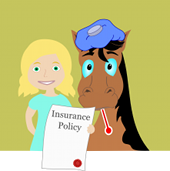 Insurance jargon in plain English
Market Value - The price you would pay today if you bought a horse of the same breed, age, bloodline, sex and ability.
Sum Insured - The amount you have chosen to insure your horse for, this is usually the price you paid for your horse.
Reasonable Care - Insurers stipulate that the horse owner should take 'reasonable steps' to ensure their horse's health. See 'Top reasons claims are rejected' to read an example case where an insurer refused a claim based on the owner not taking reasonable care.
Excess – The amount you have to pay when you make a claim. The insurer can either deduct this from your claim payment or ask you to pay up-front.
Maximum Benefit – The maximum amount your insurer will pay out for each claim. This will be shown on your policy certificate. For example, 'Veterinary Fees up to £5,000 per claim'.
Pre-existing Condition – An injury that happened previously, or an illness that showed clinical signs before your policy began.
Public Liability – If your horse causes damage or injury to someone else or their property, they may take legal action to claim compensation. Public liability will cover your legal expenses up to a specified amount.
Personal Accident – This covers the person riding or driving the insured horse. This usually covers serious injuries such as losing limbs, eyesight, hearing and causing disablement or death.
Loss of Use – Your horse develops a permanent disability which prevents you from undertaking activities which are covered on your policy. For example, if your horse is covered for cross country activities and sustains a serious hock injury which retires him from cross country activities, you will be able to claim a percentage of the horse's value as compensation.
What to expect when you make a claim
Lower values paid for loss - claims for death, theft or loss of use.
The insurer will pay out the lower value of the market value or the sum insured. This means that if the market value of your horse decreases, you may receive less than the sum you have insured your horse for. Insurers aim to put you back in the same financial position you were in when you first purchased your horse.
Administration fees - some insurers charge customers administration fees for:
paying the vet directlya percentage based excess on vet fee claimspaying premiums monthly rather than annually
Vet admin fee – Many vets charge customers when they complete their part of the insurance claim form. This can vary from £10 to £60.
If you don't understand your policy or terms and conditions, pick up the phone and call your insurer. They will be happy to explain anything you are confused about and are required by the FSA to help customers understand insurance contracts. This is called 'disclosure' and requires the insurer to provide information to its customers in an understandable format. See 'Know your rights' for further information.
Guide to buying horse insurance

Did you thoroughly read
your last policy?
25% Yes
but didn't understand it all
59% Yes
and I understood it
Have your say,
greenBox
Did you know..
Insurers are legally bound by the FSA to make their terms and conditions clear and easy to understand for customers. This is called 'disclosure'.
Did you read your horse insurance policy?
Help us learn if riders are truly aware of what their policy covers them for.

sarah from surrey
23/07/12 07:17
Answered: No, I didn't read it thoroughly

Jessie Bowling from Suffolk
22/07/12 22:29
Answered: No, I didn't read it thoroughly

Helen from Whalley
22/07/12 21:11
Answered: No, I didn't read it thoroughly

jessica hand from worksop
22/07/12 20:15
Answered: Yes, I read and understood it

Sarah from Scotland
22/07/12 16:25
Answered: Yes, but I didn't understand it all