Created June 2012.
Know your rights
Know your consumer rights when claiming on your horse insurance and how to complain if you are not happy with the service.
Horse insurance companies are regulated by the Financial Services Authority. The insurance company and the customer are bound by a 'good faith bond' of honesty and fairness. This means that both insurer and horse owner are legally required to disclose all facts and information which can affect the insurance policy.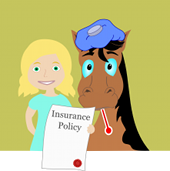 Your insurer is legally required to:
Communicate the policy restrictions and exclusions clearly, they should not be hidden away in small print or behind jargon.Tell you if they think something is voiding your insurance contract.Pay your claims quickly as long as you have stayed within the policy terms and conditions.Give you any information regarding your policy if you ask for it, for example, policy notes and history.
To ensure your insurance is valid you need to:
Give your insurer all of the facts when you take out your policy. If you withhold any information whether it be intentionally or by mistake, this will void your insurance contract.If anything changes with your horse, such as accidents, illnesses, living conditions or activities you do with your horse, inform your insurer straight away. They may have to adapt your policy to ensure you are fully covered.Pay your premiums on time.
How to make a complaint
Horse owners in the UK can make an official complaint against an equine insurer through the Financial Ombudsman. Complaints usually arise when an insurer refuses to pay a claim. If you have had a bad experience with your insurance company and would like to complain, here are the steps to take:
Step 1
Look for a copy of the insurer's complaints procedure on their website, or ask them to send you one. Complaint procedures usually stipulate that customers need to write a letter of complaint and post it to a specified address.
Step 2
Follow the insurer's complaints procedure and try to sort out the problem. Keep a copy of any correspondence and a log of when information was sent or received. Include all of the relevant facts in the complaint and end it by stating that you will take the matter to the Financial Ombudsman Service (FOS) if the problem is not resolved. If you find it hard to approach your insurer to complain, call the FOS and they will help. t: 0300 123 9 123
Step 3
If your insurer:
fails to send you a final answer within 8 weeks, orhas given you a final answer but you are still unhappy,you can pass the case to the FOS for them to investigate on your behalf.
To request an investigation by the FOS, complete the complaint form on their website.
Step 4
After investigating the complaint the FOS will come to one of the following conclusions:
the insurer has treated you fairly and explain why, orthere is no right or wrong and ask you and your insurer to settle the matter between yourselves, orthe insurer has treated you unfairly and tell the insurer what to do to put things right.
Step 5
You can accept the FOS's conclusion or you can choose to take your claim to court. Taking your claim to court will incur legal fees, so ensure you have sound legal advice regarding your case before you take this step.
What if my insurer goes bankrupt?
If your insurer is unable to pay claims against it, you may be able to claim compensation through The Financial Services Compensation Scheme (FSCS). This is the UK's statutory fund of last resort for customers of financial firms. They pay compensation to customers if an insurer goes into default and you loose money as a result.
Guide to buying horse insurance
greenBox
Did you know...
The Financial Ombudsman Service (FOS) is the official independent expert in settling complaints between consumers and financial service businesses. They provide a free service to consumers and if they feel that your insurer has acted wrongly, they can order them to put things right. The FOS will look at both sides of the argument and look at all the facts so that the case can be settled fairly.

Have you challenged a rejected horse insurance claim?
Tell us the steps you took and the outcome.

judith pashley from leicester
13/07/12 18:09
complained to the company but never revieeved a penny

sue from fleet
11/07/12 22:33
Letter from vet - agreed claim was genuine

gill from lincoln
11/07/12 09:30
Still ongoing, E & L not paying for second visit as siad out of time limit. Not helped by vet putting wrong date on the bill.

Marie from St.Helens
10/07/12 16:40
contacted the insurer initially, I think I also contacted the ombudsman. I was not successsful & the insurer did not pay the claim

ElaineStevenson from Stoke on Trent
09/07/12 21:46
complained to the ombudsman and they upheld the insurer